ILLUMINATED SMT KEY SWITCH IS SEALED
27.07.2015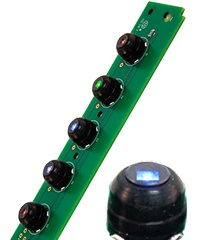 Grayhill, Inc. has released its new 14 Series surface mount key switch that combines an IP67 seal and LED illumination. With an operational life of over 1 million cycles at full power, this push button will provide positive tactile feedback for the life of the assembly. This compact switch is small enough to fit on handheld devices and tough enough for use outdoors in wet or dirty environments. It is available with or without the seal and a variety of LED colors. The design and packaging facilitate easy integration into high volume OEM devices. The 14 Series switch is ideal for use in exposed, outdoor environments, such as on multi-function hand-grip joystick heads and handheld robotic controllers. In fields or dirty construction sites where fine dust particles are present, the rugged 14 Series will work every time. This is because of a Dynamic Dust Seal which protects the switch against the ingress of dust even while it is being actuated.
Rated to IP67S, the switch can even be submerged without water getting into the contact mechanism from the top-side. 14-Series-News In any application, a long operational life is crucial. With the light and medium force option, the 14 Series is rated to 1,000,000 cycles – both electrical and mechanical. This means a product designer can choose the appropriate switch without having to worry about longevity issues. With bright LED illumination, the 14 Series switch helps operators identify and locate the correct switch quickly and confidently. Six colors of LED are available, including bright white and blue. Its compact size and positive tactile feedback makes it ideal for small applications, such as joystick handles on agriculture and construction equipment. Its environmental seal is well suited for handheld military electronics.
Other applications include portable medical electronic devices, motorcycles and marine dashboards, where illuminated keys can help operators quickly identify the correct controls. There are hundreds of possible configurations, with both sealed and unsealed versions. Single pole and double pole versions are available to suit a variety of applications. The standard operating force of 5N provides a positive tactile feedback of switch operation, but it can be increased or decreased as a standard option. Pick and Place machines can be used to mount the 14 Series SMT key switch to compact and complex PC boards. A peg on the bottom of the switch helps orient the device and hold it in place on the board. Mechanical shock and vibration testing ensure that the 14 Series will withstand harsh use. To further simplify integration, the 14 Series is sold in reels of 200 pieces. Grayhill's extensive network of distributors ensures availability in many of the possible configurations.